San Francisco Motor Sports
Service
Hands-on service from the most experienced hands around.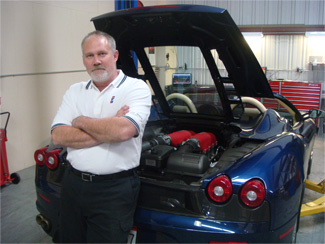 Do you want your Ferrari or Maserati serviced by the one of top technicians in Northern California? (Come to think of it, one of the top technicians in the US?) And at a reasonable cost? We all know these fine Italian machines take a bit more knowledge and care to service than a Toyota or Chevy, but we are passionate car guys who think that servicing your car shouldn't break you financially.
SFMS's Service Manager, John Heim, is one of the premiere Ferrari technicians in the country. He is one of a select number of individuals having been designated by Ferrari as a Master Ferrari Technician. He has been working on Italian cars since 1984, and he is uniquely factory trained and qualified to service ANY Ferrari - from 308's to 458's, Enzo's, F-40's, F-50's; essentially pre-1970's Ferraris all the way up to the new 599 GTO!
To complement John's encyclopedic knowledge, we have the best electronic diagnostic tool available today, which will diagnose and interact with all of the factory systems. This enables us to read all of the service and error codes, test all of the car's systems, reset service lights, and figure out whatever else might ail your sophisticated sports car.
Fill out the form below and we will contact you to provide you with a cost estimate and schedule your car for service!